Building a dream, one step at a time...
Timbers Edge barn started as a garage for farm equipment and horses. We purchased the property in 2019, then COVID changed the world. The barn started out as a home project to entertain friends and for the band to play. It has grown substantially and each vision and step along the way led to a better vision and bigger step. We have put our heart and soul into this venue and are very proud of what we have created. It is a special place for us and we are excited to share it with the community.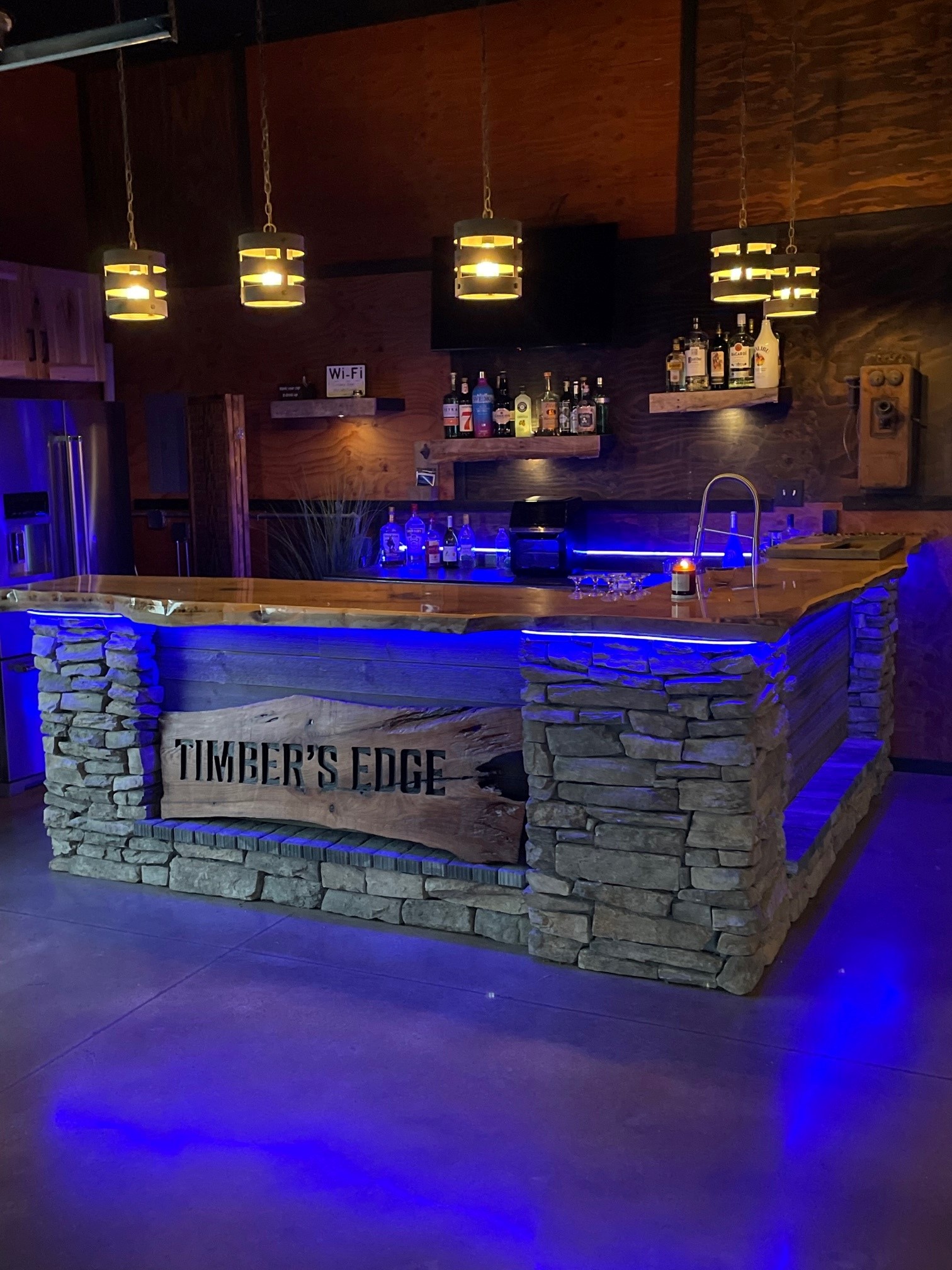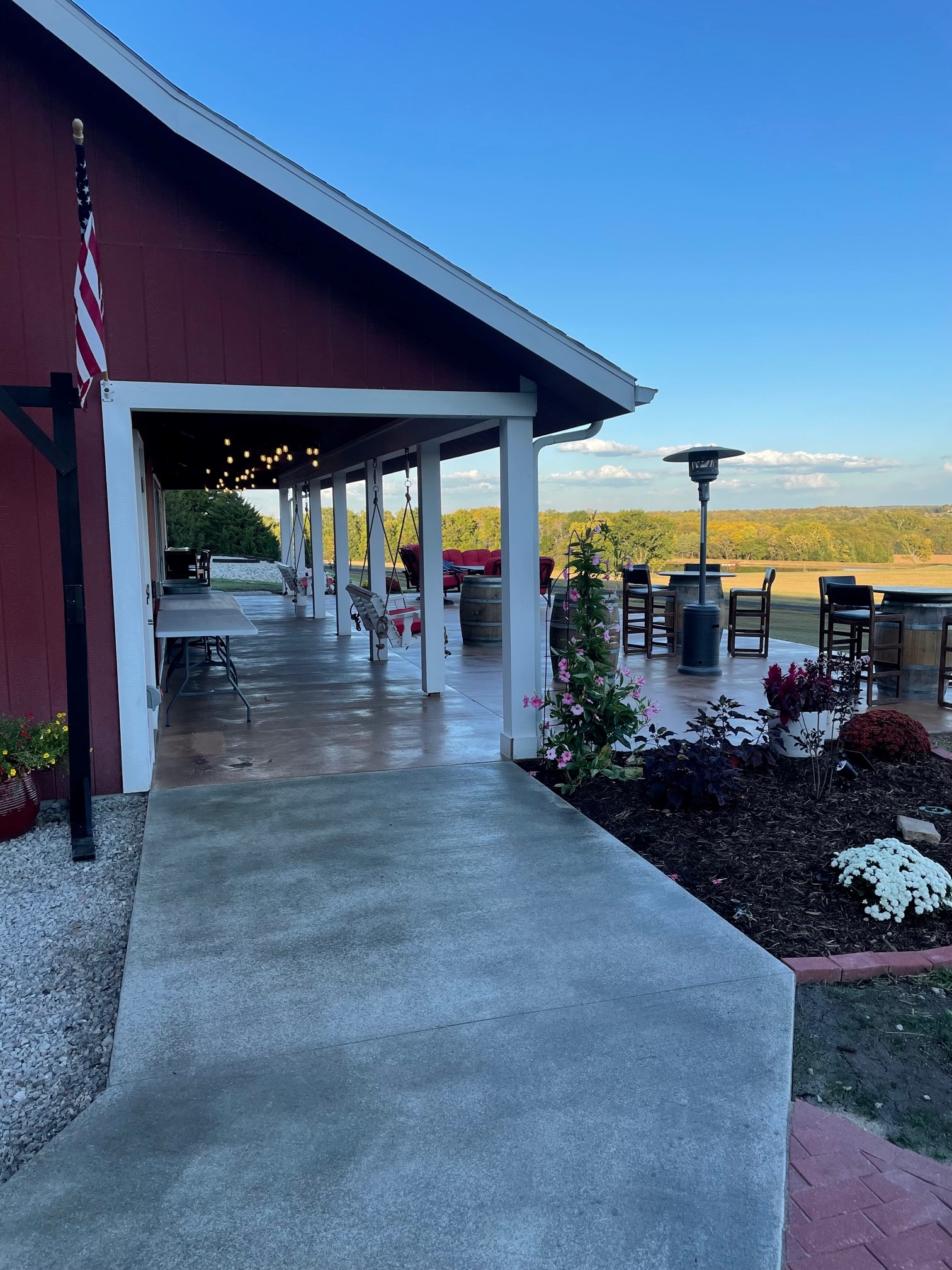 Timber's Edge
When we moved in on February 19th, 2019, the warmest it got was 16 degrees. The ground was covered in ice so thick that when the moving truck stopped near the house, it began to slide sideways down the hill. Back then, the barn was more like a giant garage and we simply drove trucks through and unloaded the mountain of "stuff" that we had collected over the years. Even through the frigid temperatures and aching muscles, this place was beautiful and we could not believe this was our home.
There was no vision of an event center or anything even close. As the junk piles found a more permanent place and space began to clear, we found ourselves spending more time at the barn just because of the view.
Then came COVID and we slowly started creating more of an entertainment space and a place for the band to practice. This is truly a COVID project that got out of control and now, it is hard to imagine this as a junk filled garage.
Like a snowball, the vision just kept growing and each new idea generated five more new ideas. It has been a lot of hard work, blood, sweat, and tears, but we are so proud of how this came together. This is a special place for us and one of the things we love the most is to see the expression of first time guests. It never gets old.
Alan Michels
Alan grew up in the small town of Wamego, Kansas and made grand plans to go to bigger and better places. He graduated from KU and could not wait to break free from academia to tackle the world. He found his love of music and played in several bands, always chasing the moments when the music came together in perfect harmony. If you would have told him that all that he was looking for was right in his "back yard" near Baldwin City, Kansas, he would have laughed and walked away.
While it took a few years, bumps, and bruises, he found the love of his life and together with a wonderful and dynamic blended family, they discovered "paradise" in a place they would have never thought to look. In October of 2018, Beth convinced Alan to come with her to look at a house out in the country. He had zero interest in moving all of their stuff from one "box" to another "box" in a different location. When she pulled in the driveway, his mouth dropped. Before they even got onto the property, he said "buy it". She said, "Don't you want to see the house?". He said "it wouldn't change my mind. Buy it.". So they did.
That small town kid never left him. That dreamer trying to learn more while chasing the perfect harmony is still there. Now he simply wishes could slow down the clock. Time flies when you are having fun and he will tell you "Believe me when I say, this is a place Where Time Flies."
Beth Michels
Beth grew up in Pennsylvania, as a child, and in Montana for middle school through college. During those years, she found her love for music and performed in church choirs, school performance groups and then traveled in Up With People. She also participated in the Student Union at college where she got her start in event planning and development.
From there, she took a position with the American Cancer Society and was a professional fundraiser and event coordinator. This position took her to Kansas where she continued in special event planning and started a family.
Beth always dreamed about having some sort of event center, of her own, to host weddings and large parties. However, she never found the right place to do it.
Beth married Alan in 2015. She soon realized that with their shared love for music and throwing big parties, it may be time to turn her vision of an event center into a reality. Finally, in 2018, she discovered the perfect property in Baldwin City that had an amazing view and a beautiful red barn. Fortunately for her, Alan also fell in love with the property and with a lot of determination and some construction skills, they got to work on building their dream together.
It has been 4 years and a labor of love, with the help of friends and family, but it is finally happening.