Services
To make your day perfect
All day access to the space starting at 8am – 12am
Full-service kitchen with live-edge wood countertops and bar
15 6-ft. rectangular tables and 100 white folding chairs
12 bar stools and 6 whiskey barrel bar-top tables
Free weeknight rehearsal if Friday night is booked (for a Saturday wedding)
ADA compliant restrooms/changing area
Tables and chairs set-up
Table linens and napkins
Tables for cake, gift and decor
Indoor and Outdoor options
Votive candles and centerpieces
Outdoor yard games such as croquet, giant Jenga and cornhole
2 fire pits (weather permitting)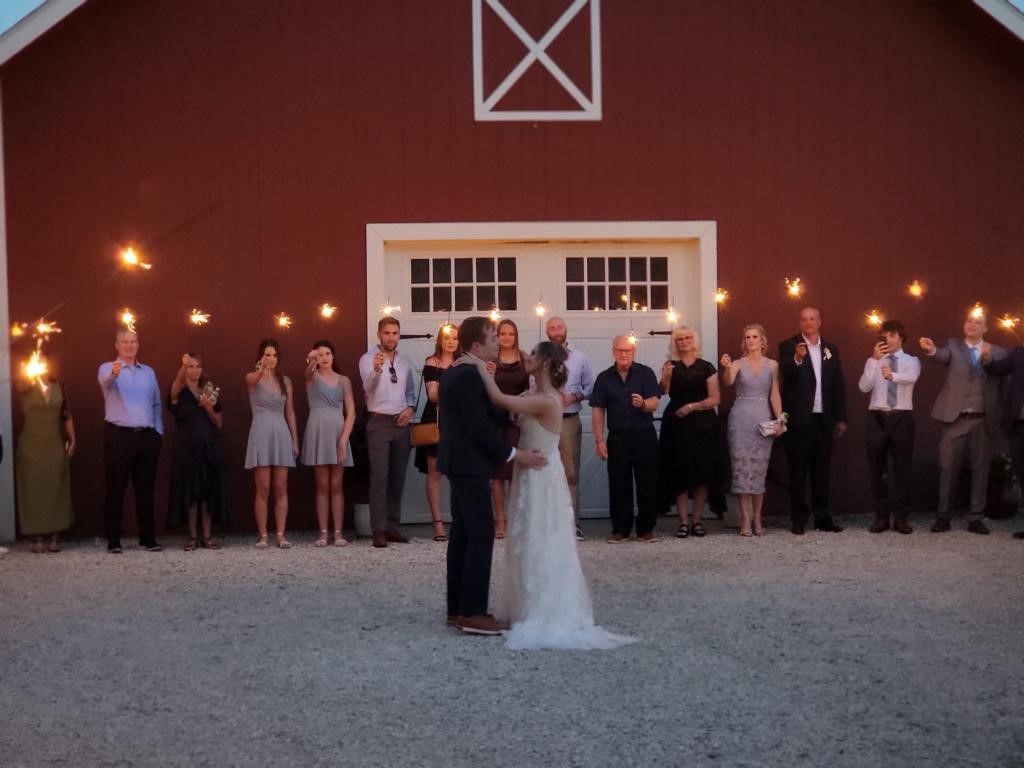 House Band
Timbers Edge features the house band Where Time Flies for entertaining your guests. Where Time Flies (WTF) covers the music you love to hear, including current to classic pop, rock, R&B, and country. From Lizzo to Luke Combs, we play the hits that will help your party come alive.
House DJ
Timbers Edge proudly offers one of the best local wedding DJ's in the area, Steve Holtzman. Steve brings over 20 years of experience in the business and is a true professional. With over 500 events under his belt, a library of excellent reviews and a wall full of awards, Steve is the perfect addition to make your special occasion memorable for you and your guests.
Day Coordinator
The day of the wedding is where months of planning come together. Let our day coordinator, Brenda Jaimes, take that stress off of you, your family, and friends by taking care of all of the "work" that needs to be done. Brenda knows how to work to fulfill YOUR plan the way you want it to be, giving you the opportunity to actually enjoy the special day you have been waiting for.
Golf Carts
There are too many great places on the property for your special photographs to describe. To help you get around to the places you and your guests want to see, we offer two golf carts to get you where you want to go comfortably and quickly.
Sound Engineer
When you simply want background music for your event but do not need a full DJ, we offer a service that allows you to take advantage of the full sound, video, and lighting system using the Timbers Edge Sound Engineer. Have a slideshow or video you want to play at a specific time, no problem. Cocktail hour on the patio at sunset with the perfect music in the background, no problem. Let our team handle the sound, video, and lighting so you can just relax and enjoy.
Wireless Microphone and Stand
For events that do not want the features of a band or DJ, but still be able to speak clearly to your guests without yelling, Timbers Edge offers a cordless microphone. The venue is set up with a professional sound system to allow you to communicate with your guests both indoors and out. No need to spend time connecting equipment and running wires. All of that will be taken care of leaving you the simple task of turning the mic on and off.
Clean Up After the Event
It is hard to imagine the perfect day ending with picking up trash and cleaning tables. Let our crew take over and we will handle it for you so you can end your perfect day perfectly. While the regular plan requires you to leave the place as you found it, this service allows you to let us handle that clean up for you.
Video System
The barn features several video screens including 4 TV's and a 10 foot projection screen. We can provide an HDMI connection for you to plug in your own laptop and run the show. Whether you are making a presentation or showing a special video or slideshow, our system will give every guest in the room a clear view of a screen.